NEW - Video on Demand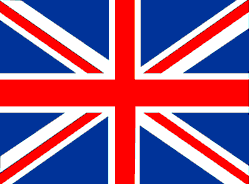 Purchase only for Private Use! - Video on Demand -
Purchase for cinemas, film clubs, libraries, universities, schools,
educational and scientific Institutions - Video on Demand -
100 Cinemas remember Bruno Schulz – worldwide
Sunday, November 19, 2017 – 75th anniversary of his assassination
FINDING PICTURES – Connecting memories all over the world – Be part of it!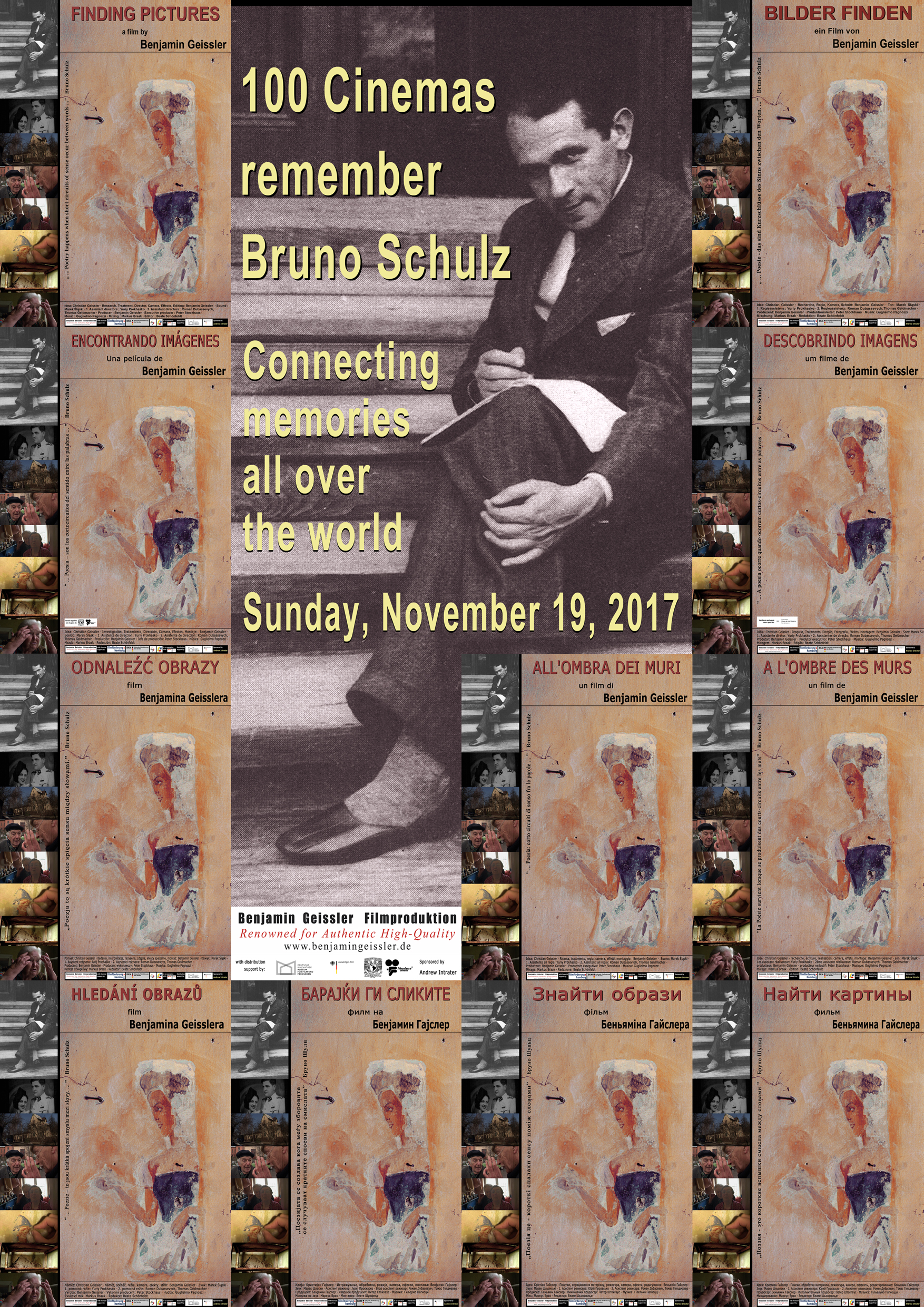 We are delighted to draw your attention to a worldwide cinema event and we would be pleasured if you could inform your friends, acquaintances, relatives and colleagues about this unique event in advance. Connecting memories all over the world – Be part of it!
2017 is the 125th birthday and the 75th anniversary of Bruno Schulz's assassination (1892 – 1942).
The writer and painter, was born as an Austrian, lived as a Pole and died as a Jew. He gained reputation in Poland with his story collections The Street of Crocodiles and Sanatorium Under the Sign of the Hourglass. Bruno Schulz is considered one of the most influential, but barely known writers of the 20th Century. His magnum opus The Messiah is still lost.
In 1942 under German occupation Bruno Schulz had to make several murals as the "Leibjude" for the Viennese "SS-Hauptscharführer" and "Blutordensträger" Felix Landau.
The Worldwide screening – 100 Cinemas remember Bruno Schulz has the goal to create an international and interrelated remembrance work, which gives the opportunity to tribute one of the most influential but hardly known Polish-Jewish painters and writers (translated into 39 languages) of the 20th Century and his tragic fate under the terror of German occupation in the Galician city of Drohobycz in 1941-42.
On Sunday, November 19, 2017, on the occasion of the 75th anniversary of Bruno Schulz's assassination, the award-winning documentary Finding Pictures will be screened all over the world, exactly fifteen years after his world premiere at the Center for Jewish History in New York City. Finding Pictures will be presented in 11 languages in over 80 cities in Austria, Brazil, Czech Republic, Ecuador, Germany, Israel, Italy, Macedonia, Mexico, Netherlands, Poland, Russia, Spain, Switzerland, Ukraine and the United States.
Below you can see a list of the participating cinemas divided by country (cities, cinema, local projection times) of
100 Cinemas remember Bruno Schulz – worldwide, Sunday, November 19, 2017 - Here you can see the internatinal Event-Trailer on YouTube
* Detailed informations and updates about Local Cooperation-Partner / Further Events, scheduling will be published here later.
USA:
City
Chicago

FINDING PICTURES


Cinema
Facets Cinémthèque

Time
19:30
Israel:
City
Jerusalem

FINDING PICTURES


Cinema
Jerusalem Cinematheque

Time
18:00
Netherlands:
Stad
Amsterdam

FINDING PICTURES


Bioscoop


FC Hyena

*

Tijd
11:00
Germany:
Stadt
Aachen
Backnang
Berlin
Bochum
Bonn
Bremen
Bremerhaven
Darmstadt
Dorsten
Dortmund
Dresden
Düsseldorf
Erfurt
Erlangen
Frankfurt a.M.
Freiburg Br.
Gießen
Großhennersdorf
Halle (Saale)
Hamburg
Heidelberg
Kenzingen
Kiel
Leipzig
Ludwigslust
Lüneburg
Marburg
München
München
Neustrelitz
Nürnberg
Oldenburg
Rendsburg
Stuttgart
Tübingen
Wasserburg
Weinstadt
Würzburg
Zittau

BILDER FINDEN


Kino


APOLLO KINO

*
Kino Universum *
Babylon
Casablanca Kino
Rex-Lichtspieltheater *
Cinema im Ostertor
Passage Kino
programmkino rex
CENTRAL Kino *
SweetSixteen-Kino
KIF – kino in der fabrik *
Black Box Kino *
Kinoklub am Hirschlachufer
Kulturzentrum E-Werk
Deutsches Filminstitut – DIF *
Kommunales Kino
Kinocenter Gießen
Kunstbauerkino *
Luchs Kino am Zoo
ABATON Kino
Karlstorkino – Medienforum *
Löwen-Lichtspiele *
Traum-Kino
Prager Frühling
LUNA Filmtheater *
SCALA-Programmkino
KAMMER-Filmkunsttheater *
Theatiner Film
Studio Isabella München
Basiskulturfabrik
Filmkunsttheater Casablanca
Cine k *
Schauburg Filmtheater - Kommunales Kino *
EM-Filmtheater
Vereinigte Lichtspiele Lamm, Kino Museum *
KINO UTOPIA
Kommunales Kino
Central im Bürgerbräu *
Hillersche Villa, Kronenkino *

Uhrzeit
14:00
18:00
18:00
12:00
11:00
13:00
17:30
19:45
17:15
11:30
12:00
17:30
11:00
18:30
12:00
19:30
14:30
18:00
15:00
14:15
11:00
17:50
14:00
17:00
18:00
12:00
13:00
11:00
13:00
18:00
15:00
11:30
17:00
19:00
18:00
13:00
20:00
11:00
19:00
Austria:
Stadt
Freistadt
Innsbruck
Linz
Wels
Wien

BILDER FINDEN


Kino
Lokal Bühne
Otto Preminger Institut - Cinematograph
Moviemento Kino
Programmkino *
TOP KINO

Uhrzeit
20:00
18:00
11:15
20:00
17:00
Italy:
Città
Firenze
Genova
Milano
Roma
Torino
Venezia

ALL'OMBRA DEI MURI


Cinema
Fondazione Culturale Niels Stensen – Istituto Stensen *
Circuito Cinema Genova S.r.l. - sala Film Club
Fondazione Cineteca Italiana, MIC-Museo Interattivo del Cinema
Cineteca Nazionale Roma, Cinema Trevi *
Museo Nazionale del Cinema, Cinema Massimo *
Città di Venezia, Multisala Rossini

Orario
11:00
20:15
17:00
21:00
16:00
17:00
Switzerland:
Città
Lugano-Massagno

ALL'OMBRA DEI MURI


Cinema
LUX art house Cinema

Orario
20:30
Spain:
Ciudad
Barcelona

ENCONTRANDO IMÁGENES


Cine
Filmoteca de Catalunya

hrs.
19:00
Mexico:
Ciudad
Ciudad de México
Ciudad de México
Morelia, Michoacán

ENCONTRANDO IMÁGENES


Cine
Filmoteca UNAM - Sala Julio Bracho del Centro Cultural


Cineteca Nacional - Sala 8 Ismael Rodriguez


Teatro Ocampo de Morelia

*


hrs.
18:00
17:00
17:00
Ecuador:
Ciudad
Quito

ENCONTRANDO IMÁGENES


Cine
Cinemateca Nacional "Ulises Estrella"
Sala Alfredo Pareja de la Casa de la Cultura Ecuatoriana

hrs.
18:30
Brazil:
Cidade
Rio de Janeiro

DESCOBRINDO IMAGENS


Cinema


MAM - Cinemateca do Museu de Arte Moderna do Rio de Janeiro


hora
16:00
Poland:
Miasto
Gliwice
Katowice
Kielce
Krakow
Łódź
Oświęcim
Oświęcim/Auschwitz
Warszawa

Warszawa

ODNALEŹĆ OBRAZY


Kino
Dom Pamięci Żydów Górnośląskich
Silesia Film Kosmos cinema *
Jana Karskiego – Instytut Kultury Spotkania i Dialogu
Kino Kijów.Centrum *
Centrum Dialogu im. Marka Edelmana
Fundacja na rzecz Międzynarodowego Domu Spotkań Młodzieży
Stiftung für die Internationale Jugendbegegnungsstätte
Kino Elektronik *

Kino Atlantic

*


Czas
17:00
19:15
19:00
15:00
19:00
19:00
19:00
18:00
20.11.17 13:30
Czech Republic:
Město
Praha
Brno

Hledání obrazů


Kino


Národní filmový archiv – Ponrepo Cinema


Theater Husa na provázku * Spolek přátel Bruna Schulze

*


Čas
17:30
17:00
Macedonia:
Град
Скопје / Skopje

БAPAJЌИ ГИ СЛИКИТЕ


Кино
Кинотека на Македонија / Cinematheque of Macedonia *

Време
20:00
Ukraine:
місто
Львів
Київ
Харків
Івано-Франківськ
Вінниця
Дніпро
Тернопіль
Рівне
Луцьк
Хмельницький
Суми
Запоріжжя

Знайти образи


Кінотеатр
Ukrainian Catholic University, Sheptytsky Center, Lviv
Мережа Книгарень «Є» / Ye Bookstore, Kyiv
Мережа Книгарень «Є» / Ye Bookstore, Kharkiv
Мережа Книгарень «Є» /Ye Bookstore, Ivano-Frankivsk
Мережа Книгарень «Є» /Ye Bookstore, Vinnytsia
Мережа Книгарень «Є» / Ye Bookstore, Dnipro
Мережа Книгарень «Є» / Ye Bookstore, Ternopil
Мережа Книгарень «Є» / Ye Bookstore, Rivne
Мережа Книгарень «Є» / Ye Bookstore, Lutsk
Мережа Книгарень «Є» / Ye Bookstore, Khmelnytskyi
Мережа Книгарень «Є» / Ye Bookstore, Sumy
Мережа Книгарень «Є» / Ye Bookstore, Zaporizhia

Час
14:00
16:00
18:00
18:00
16:00
18:00
18:00
18:00
16:00
18:00
17:00
16:00
Russia:
город
Москва / Moscow

НАЙТИ КАРТИНЫ


Кино
Еврейский музей и центр толерантности /
Jewish Museum and Tolerance Center, Moscow

Время
16:00

Soon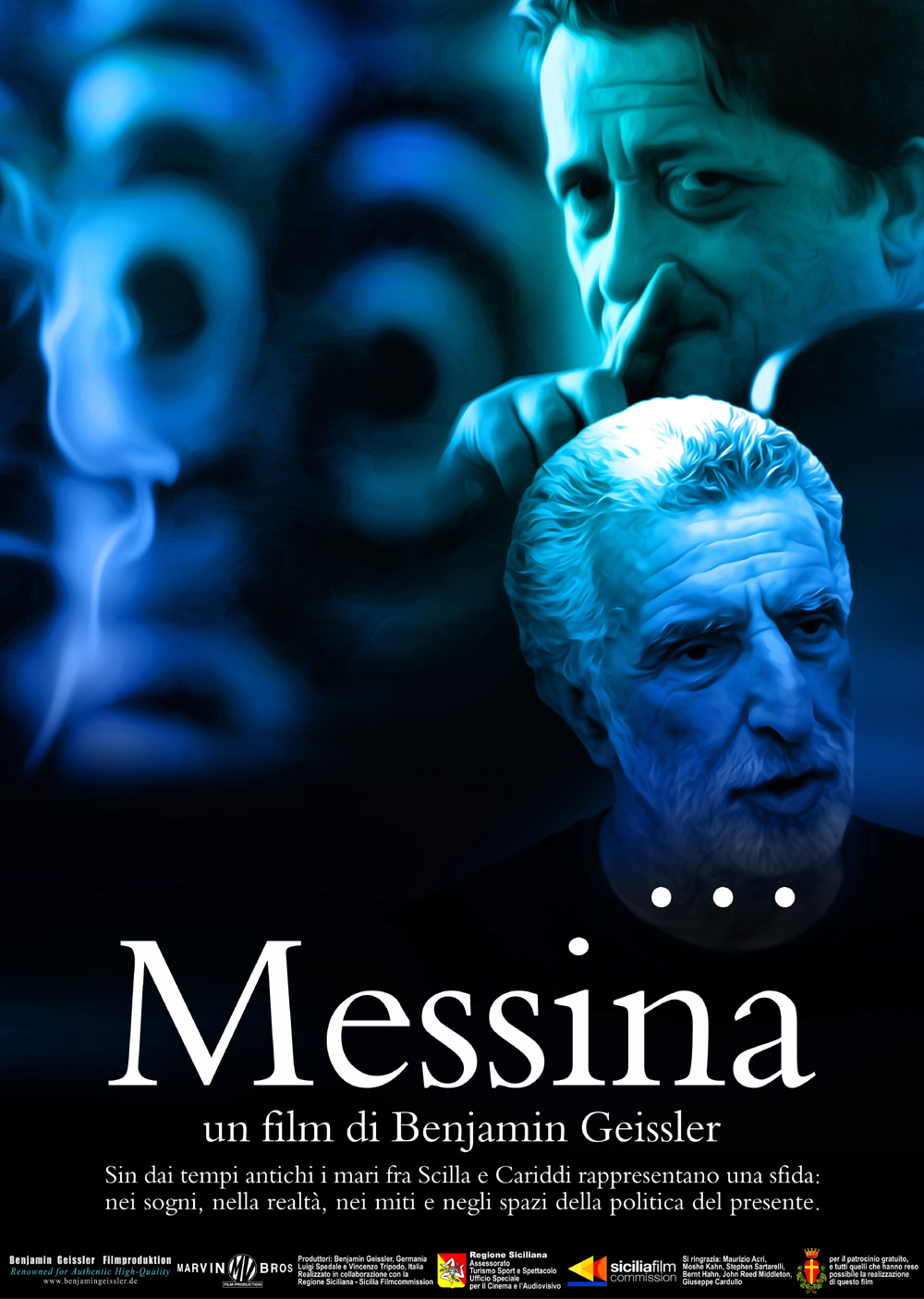 Idendity and Action
in Uncerctian Times
After 3 years of hard work our documentary "… Messina" is ready – despite the lack of film funds and TV participations in Germany. This long-term observation is a current and poetic metaphor of Europe.
But even if we did not find a suitable premiere venue, considering the film's actuality and on the occasion of the 60th anniversary of the Treaty of Rome, the G7-Summit in Taormina and the G20-Summit in Hamburg, we decided to put the online movie trailer on Vimeo and YouTube.
We are also pleased to present 3 excellent comments, from people who have already seen the whole film "… Messina":
Really impressive Story; in my opinion exactly the kind of European film, we need now: concrete, on-site, reassuring, not postulating but developing values out of the subject matter.
Martin Hagemann, Film producer and Professor of Film and Television Production at the Film University Babelsberg KONRAD WOLF
I watched the movie at once, and it was truly gripping. It is the same type of real-life fiction that inspires novels. Not to mention that absolutely great D'Arrigo.
Claudio Magris, recipient of the Erasmus Prize, Prince of Asturias Award, Peace Prize of the German Book Trade, visiting professor at the Collège de France
I finally watched your movie – and I am glad that I waited for a quiet and concentrated moment to do so. Because the pictures clearly depict the fictional world of D'Arrigo. The necessarily vague contours are given a clarity I felt I was living in for moments.
And without being able to precisely analyze and describe it, I had the impression that the rhythm of your movie transferred the book's often dominant prosaic rhythm to a new dimension.
A commentary, an intellectual debate – and at the same time a "realization" in the medium of pictures.
I am very grateful to you for this.
Hans Ulrich Gumbrecht, Professor of Literature and Comparative Literature, Stanford University, California, USA, visiting professor at the Collège de France
Past Events and Notes:
Int. ExhibitionS
The Picture Chamber of Bruno Schulz
Germany
HAMBURG
Lost Pictures ∞ Lost Memory?
Interdisciplinary Series of Events
Lectures / Music: Anarchy in the UKR with Juri Andruchowytsch, Ljubko Deresch & Serhij Zhadan - Sobaki v Kosmosi
Conferences: THE INCANTATION OF THE CIRCE – Giordano Bruno; The mafia Psyche – with Prof. Girolamo Lo Verso
Film: Lost Pictures ∞ Lost Memory?
Haute cuisine: culinary art – with the Sicilian master chef Corrado Assenza
Flyer interdisciplinary events (PDF)
InTeatro e.V. and Benjamin Geissler Filmproduktion in collaboration with: Machtclub Uebel & Gefährlich; Italienisches Kulturinstitut, Hamburg; Hamburgischer Richterverein; Gesellschaft Hamburger Juristen; Hochschule der Polizei Hamburg; Gallo Nero, Enoteca e Ristorante; Caffè Sicilia; Filmfest Hamburg
Lost Pictures ∞ Lost Memory? is available on DVD on the Exclusive Online-Shop
subtitled in 5 languages (German, English, French, Italian and Portuguese).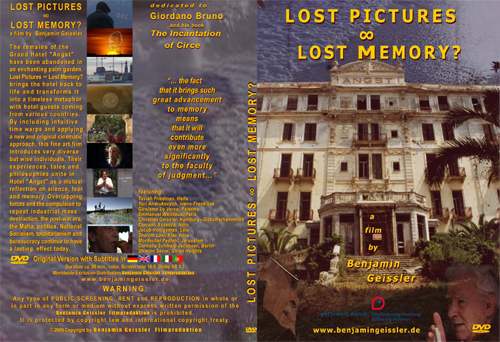 Italy
RAI RADIOTRE: Interview with Nadia Malverti about our audiobook production: Italian fairy tales in Italian – "Si conta e si racconta" slipcase with 3 CD's and booklet

RAI RADIOTRE programma PIAZZA VERDI – "Favoloso"INTERVISTA A NADIA MALVERTI CHE PRESENTA "SI CONTA E SI RACCONTA" RACCOLTA AUDIO IN 3 CD DI 20 FIABE POPOLARI ITALIANE

Tutti sanno chi sono Cappuccetto Rosso e Biancaneve. Ma chi conosce Rosmarina, Don Peppe del Pero, Stella Diana, Pirichicchio? Un regalo speciale, che accompagnerà nel tempo piccoli e grandi.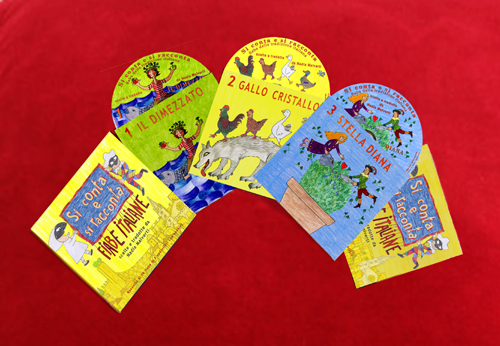 For more information's take a look: www.si-conta-e-si-racconta.eu
Available on the Exclusive Online-Shop
The open letter by the writer ANDREA CAMILLERI
regarding the destruction of the UNESCO – World Heritage
Late Baroque Towns of the Val di Noto, Sicily
under the following link to the Italian newspaper la Repubblica: http://www.repubblica.it/speciale/2007/appelli/val_di_noto/index.html